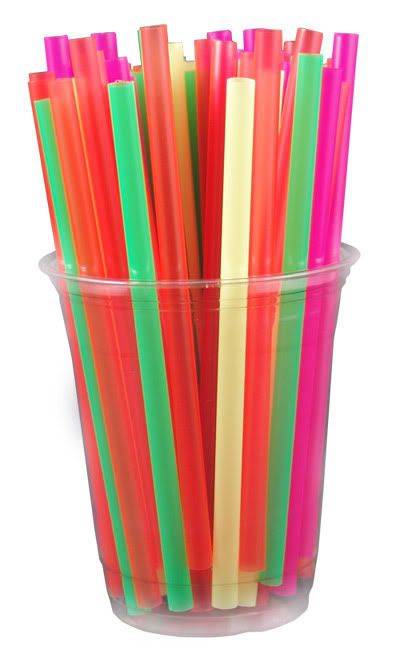 Grasp away
You knew Madison Square Garden was going to be a madhouse tonight. An electric crowd would greet the Pens, but like I said in the post-game thoughts in Game 2, an early goal for Pittsburgh would be great to take the fans out of it. Sure enough, just over a minute in, Marian Hossa makes it count for an early lead. This morning, the boys over at
ThePensBlog
predicted #18 would notch one tonight.
Now, just a win away from a sweep, it's time for the Penguins to step on the Rangers' throats. New York is going to be deflated heading into Game 4, but allowing them to get back in the series could be costly. Yes, only two NHL teams and three sports teams in history have come back from 3-0 deficits, but those are just statistics. That's why you play the games.
More thoughts from a big-time win:
-Ron Duguay in between the benches was somewhat insightful at times. Good to see him again. If you would have told me he was the newest member of Bon Jovi, I wouldn't have flinched.
-The Marc Staal hit on Jordan Staal was fantastic. No love for brothers. Reminds me of the
fight between the Primeau brothers
.
-Speaking of Jordan's older brother, Marc is going to be one solid NHL defenseman. What a stud.
-Thank you Joe Micheletti for telling me 13,000 times that the Rangers first goal was indeed a goal. From the multiple times and angles that the MSG Network showed the replay, it was obviously a good call. No need to remind us over and over again Joe.
-12 goals allowed in three games from one of the Vezina Trophy candidates.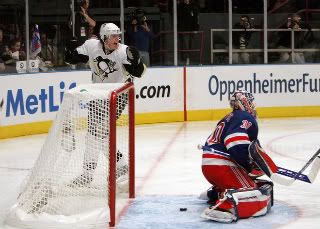 -Right before Georges Laraque's goal, I noticed Petr Sykora and Evgeni Malkin out there, then Laraque rushing in. I wondered where the hell Ryan Malone was, maybe caught in the change. Three seconds later I wasn't caring when BGL went top shelf.
-Pittsburgh's penalty kill has been awesome. Very composed and patient.
-Jaromir Jagr and Mario Lemieux have got to be two of the best "no-angle" shot takers of all time. Jagr's goal tonight was unreal.
-Shots on goal: Pittsburgh 17, New York 39. The Pens only had 8 in the final two periods. So Marc-Andre Fleury still isn't a good goalie?
-How important are faceoffs? Ask Evgeni Malkin, who won a faceoff in the Rangers zone early in the 3rd period which led to the fifth Pittsburgh goal. The Pens still lost 32 of 59 faceoffs.
-I've been hammering home all along how important depth is in the playoffs. What a great addition Adam Hall has been. Not a full-time player, but when he plays, he brings his size, faceoff ability, and great penalty killing. This guy was left for dead and was only invited to the Penguins training camp on a try-out because he knew GM Ray Shero from their Nashville days.
-Are we done with the conspiracy theories now? How many more power-plays do fans want the Rangers to not score on? 0-5 tonight was New York.
-Sidney Crosby had a quiet two assists tonight and that's fine. Evgeni Malkin was again a beast with two goals and an assist.
Game 4 is Thursday night. It'll be hard for the Pens not to think ahead to the Conference Finals, but it's important to finish the job at hand. Crazy things have been known to happen in the playoffs. Take care of business on Thursday night, then rest up and be healthy for what lies ahead.
Let's Go Pens!