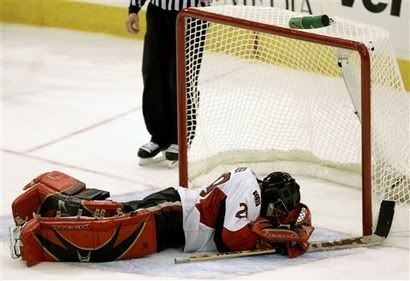 My goodness. How stupid is this Senators organization?
Very.
First, your coach accuses your opponent of taking the final game of the regular-season in order to play your team. Isn't that also saying your team kind of sucks and would be the preferred opponent of any team in the league?
Now, someone in your organization thought it'd be a bright idea to do this:
" In what is surely one of the stupidest and most ignorant moves going, somebody with the Senators organization decided to cover a wall near the Penguins dressing room in Scotiabank Place with a large mural. It's a photo of the Senators shaking hands with the Penguins after the Senators eliminated them in their first-round matchup last spring.

It's positioned so it is about the last thing the Penguins will see as they make the turn from the main hallway to enter their dressing room."
I love how a writer from the
Ottawa Sun
, not named Don Brennan, has some common sense.
Yep, letting guys like Gary Roberts, Sidney Crosby, Sergei Gonchar, and Ryan Malone see that sure will put them in their place not fire them up at all. Nope, definitely not. Remember this time when the Flyers pissed off Sid?
Worked out fine.
I've got an idea for those wizards in the Senators offices, who might be thinking of a mural they can use outside Ottawa's locker room. It's a perfect description of their season: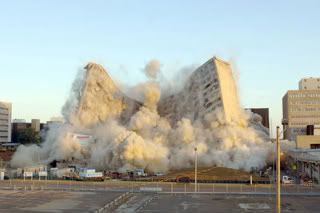 Let's Go Pens.
UPDATE
: For those that did not click on the
Sun
link, keep in mind that this mural was put up before the playoffs began and before the Senators knew they were playing the Penguins. Even still, why not replace it? Maybe with a photo of Alex Daigle on Draft Day '93?