MONOLOGUE
The playoffs are here!
The playoffs are here!
The playoffs are here!
The playoffs are here!
The playoffs are here!
The playoffs are here!
What a great time of year to be a hockey fan.
NEWS AND NOTES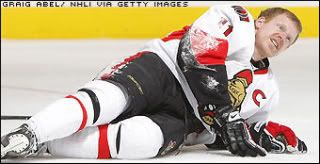 Bryan Murray revealed that two key cogs in the Senators lineup, Daniel Alfredsson and Mike Fisher
would be "out weeks"
after sustaining injuries last week, yet another blow to the defending Eastern Conference champions who are currently in a tailspin.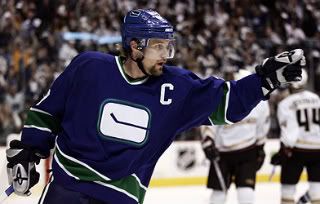 Quietly under the radar while Trevor Linden's possible retirement dominated the headlines, their current captain, Markus Naslund
could be hanging up his skates as well.
Naslund is a free agent this summer and has publicly said he is unsure about his future.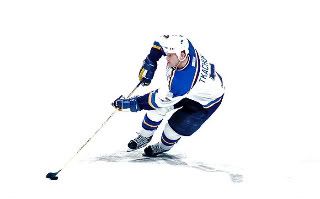 Another American reached the 500 goal milestone this season. Joining Mike Modano and Jeremy Roenick, St. Louis forward Keith Tkachuk
scored his 500th goal on Sunday against Columbus
. He now becomes the 41st player in league history to reach the 500 goal plateau.
Alex Ovechkin
wrapped up the Art Ross Trophy
on Sunday when Evgeni Malkin was held pointless. OV won the scoring race by six points and in the process set a record for goals by a left-winger with 65.
AROUND THE BLOG WORLD
Deadspin
introduces us to a 96-year old hockey player whose name doesn't start with Chris and end with Chelios.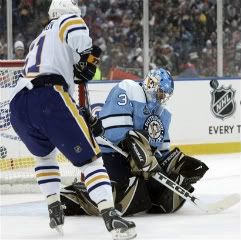 Opening seems like yesterday doesn't it? The boys from
The PensBlog
take a look back at a post hour before the Penguins season kicked off in Carolina.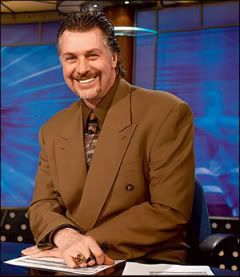 Mullets are hockey.
Barry Melrose Rocks
had a Mulletted of Champions tournament and sure enough, Barry Melrose was crowned the champ.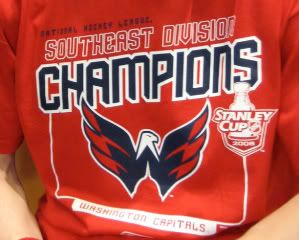 What was it like at the Verizon Center on Saturday when the Capitals clinched?
On Frozen Blog
bring you some great photos.
The playoffs can only mean one thing: the tradition of the playoff beard. Want to get in on the fun? Head on over to
The NHL Arena
to enter their contest.
LET'S GO TO THE VIDEOTAPE!
Who loves bloopers?.

Every single Alexander Ovechkin goal this season.

Absolute classy move by Jarome Iginla and his teammates to shake hands with Trevor Linden, who probably played his final game last night.

Coach's Corner from last night's Hockey Night in Canada.

PLAYER OF THE WEEK
Cristobal Huet could be the Deadline Day pickup of the year. Huet gave the Capitals three huge wins en route to a playoff berth, while posting a 1.00 GAA.

UPCOMING GAME OF INTEREST
The next two and a half months will be games of interest for all hockey fans.

GRATUITOUS PITTSBURGH PENGUINS RELATED AWESOMENESS
Sidney Crosby's sick redirect goal against Philadelphia last week.

That's all for "Puttin' on the Foil" for this season. It'll return next October for the 2008-09 season.