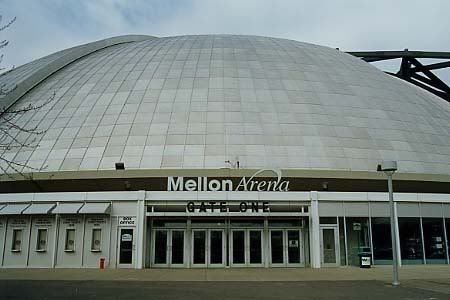 By the time you read this, I'll be somewhere in Pennsylvania en route to Pittsburgh for tonight's Game Three. This marks my first time ever in Pittsburgh and I am eagerly awaiting the electric atmosphere inside Mellon Arena.
This trip was not planned on a whim after the Pens secured a berth in the Finals. It was actually brainstormed way back in March after they clinched a playoff berth in New Jersey. My buddy Andrew and I made the trip to Prudential Center and made the pact after the game.
This was also before we
met Kevin Stevens
while waiting for the train back to Penn Station.
We said if the Pens made the Finals, we'd max out our credit cards to make a game in Pittsburgh. We're not even close to maxing out our cards as we bought tickets almost a month ago at a decent price (considering what they are now) and managed to find a hotel a half mile from "The Igloo" that promises to not have roaches as roommates.
I'm looking forward to enjoying some
Primanti Brothers
and a possible meet up with
ThePensBlog
(STUNNED). If you're in town and want to try and meet up, shoot me an email at
sleahy-21-at-gmail-dot-com
Let's Go Pens!