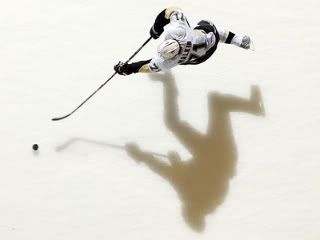 If you haven't checked out
HockeyReference.com
, I implore you to do so. You'll find enough statistics and records that will get you fired from your job for lack of productivity.
Greg Wyshynski
interviewed Justin Kubatko, VP of Sports Reference LLC a few weeks back and got some more insight into this recent great addition to the Internet.
The coolest part of
HockeyReference.com
is that fans are able to "sponsor" a page for a fee, which allows them to advertise their blog or insert a message about said player. Unfortunately, when I found about this feature,
Sidney Crosby
and
Mario Lemieux
were already taken.
I was however able to snag my current favorite Penguin,
Evgeni Malkin
as well as two other favorites in
Mike Komisarek
and
Erik Cole
.
Is your favorite player sponsored yet? Dying to know how many goals
Hakan Loob
scored during the 1987-88 season? Be sure to bookmark
HockeyReference.com