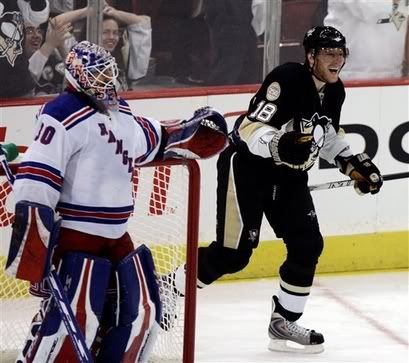 Holy jesus.
Nothing else gets the blood pumping more than overtime playoff hockey.
Before we get into Game 5, much like the end of a playoff series that ends in both teams shaking hands, I've got to give some respect to the New York Rangers. The history books may record this series as a 4-1 win for the Penguins, but it was much closer than that. Any of these games could have gone either way with a bounce or break here or there. New York showed their character rallying from three goals in Game 3 and two goals this afternoon in Game 5.
There may be some uncertainty in the Rangers future with some of their players, mainly Jaromir Jagr, but they have some talented young players in Brandon Dubinsky, Nigel Dawes, Ryan Callahan, Marc Staal, and of course, Henrik Lundqvist. I think they'll be fine.
On to the series clincher:
-We finally saw the sniper Marian Hossa today. That's why the Penguins got him, for goals like he scored today. Hopefully this is the beginning of a nice scoring streak for him.
-How pretty was it to watch Pittsburgh passing the puck in the second period? When they are on, it is fascinating. To be able to possess the puck like that, especially on the power-play is dangerous to opposing teams, who do not want their penalty killers out for the entire shift.
-What a wrister by Rangers rookie Lauri Korpikoski, who held his own playing in his first NHL game. Quite the situation to be thrown into.
-Lundqvist had to be brilliant yet again and he was. The man made 37 saves today, keeping the Rangers in the game while the Pens kept firing and firing.
-If the Penguins want to keep going, they have to stop taking stupid penalties. Jarkko Ruutu does a great job as a pest, but one of these times, his antics will cost Pittsburgh big time.
-Rob Scuderi is a +7 in the playoffs. Solid.
-Sidney Crosby did not score a goal the entire series, he did have six helpers, and that's ok. There's enough offensive power in that lineup that Pittsburgh needs a guy to create.
-Henrik Zetterberg scores a
no-look goal
the other night against Colorado...Evgeni Malkin tries his best to imitate him this afternoon. Not just a great job on the shot, but tremendou job by Geno staying with the puck.
-Like I said the other night, I hope this isn't the last we see of Jaromir Jagr.
-Is this the last we see of Brendan Shanahan? He has said it's either the Rangers or retirement.
-A "Battle of Pennsylvania" will get brutal, intense, and ugly. There will be no love lost between these two teams. Philadelphia is coming in on the backs of Martin Biron, Daniel Briere, and RJ Umberger. The Eastern Conference Finals should be an amazing series to watch.
Let's Go Pens!
UPDATE
: Those that are asking when the Eastern Conference Final will begin,
NBCSports.com
has a schedule of their broadcasts and show Game 3 on Saturday, May 17th at 1:30pm, so make your own schedule based on that info.
And if you're wondering why the start time is at 1:30pm....the Preakness Stakes will be later that day on NBC. If there's overtime in that game, you can be sure that NBC will switch things over to Versus like they did last year.
UPDATE
:
James Mirtle
is reporting Pens-Flyers Game 1 will be Friday and Game 2 Sunday on NBC.
UPDATE
: Well, so much for speculating. The Pens-Flyers will be Fri/Sun/Tue/Thur/Fri/Sun/Tue/Thurs.