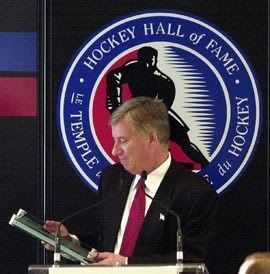 Back at the
end of March
, the Mike Lange Tournament of Quotes was unleashed to the world. The best 64 Lange-isms were put to battle and you voted week after week (five weeks to be precise). After 32,233 votes (yes, holy shit that many), we've whittled down 64 quotes now to a final two. Who will be battling for the title of "Mike Lange Tournament of Quotes" champion?

(1) Ladies and gentlemen, Elvis has just left the building!
(Francis Bracket)


v.

(4) Heeeeeeeeeee shoots and scores!
(Stevens Bracket)


Voting in the finale will begin tonight at midnight and run through early next Thursday morning, May 8th when the champion will be announced.
I'm trying to get in touch with Mr. Lange to make the legend aware of this little tournament here. Hopefully someone in Pittsburgh has told the guy about this and somewhere he's saying, "Look out Loretta!"
UPDATE
: Phil Bourque handicaps the final on the May 1st
"Crash the Net"
segment during the Penguins-Rangers Game 4 radio broadcast.
UPDATE #2
: Vote
here