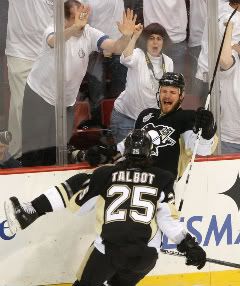 Back in the series
Wow.
What a day. What an experience I had in Pittsburgh.
We made great time from New York and into Pittsburgh after only a six-hour drive. After getting lost in the Hill District (yes, oh my!) a bit we finally found our hotel and took a rest before heading to the area near Mellon Arena.
Walking through the city near the arena, you could see the city was wrapped up in Pens-madness. Signs adorned windows saying, "Let's go Pens!". Every store front window had some sort of Penguins paraphernalia hanging up. The bars even had discounted LaBatt's on Penguin gamedays (score!). My buddy and I also thoroughly enjoyed the squirrelly looking man who gave us a "Let's go Pens!" shout as we walked down the street in our Pittsburgh jersey's.
It was such a neat experience as this was the first time in 45-50 games I've attended, that I had ever seen the Penguins in Pittsburgh and as the "home" team.
We got to Mellon Arena around 4pm to check everything out. The lawn area already had people camped out waiting for the puck to drop. By 6pm when we walked by again, it was packed to the brim. Immediately as we walked up the ramp, we bumped into former Penguin and Red Wing, and Hockey Hall of Famer, Larry Murphy. Nice guy.
PensStation is the team store and it was packed with folks throwing down serious money for Pens stuff. Plenty of t-shirts and hats in there for everybody. They had some winter classic blue t-shirts with "GENO 71" on them. Isn't it "GINO", since that's how it's stamped on his sticks?
We camped out on a bench right behind the TSN tent in front of PensStation. At the time, former Pen Kevin Stevens and Pens general manager Craig Patrick were being interviewed by a guy I didn't recognize. Where were they hiding James Duthie? Minutes later, Bob McKenzie literally emerged from the trees and made his way into the Pens store, possibly to buy an Adam Hall t-shirt.
From there, we kind of just hung out, people watched and enjoyed the atmosphere. Eventually, more fans began showing up, people started "Let's Go Pens" chants all over the place and I swear I saw Stanley Cup keeper
Phil Pritchard
working a "hockey accuracy shot" booth.
Other personalities seen outside Mellon Arena:
Mike Milbury: still a clown
Bob Smizik of the Pitsburgh Post Gazette: he just looks grumpy
George Birman: Malkin's interpreter
Tom McMillan: Pens PR man
Billy Jaffe: Isles color man
Sam Rosen: Rangers play-by-play man
Iceburgh: 'nuff said
Once we got inside the arena, it was clear this was a 47-year old building. While the concourse was decently wide, some of the newer buildings have an incredibly more amount of room. We explored the first level, got to see a Hall of Fame trophy exhibit with the Hart, Calder, Art Ross, Conn Smythe, and Prince of Wales on display. Too bad the Cup couldn't be there. Silly, "Cup only enters the building when it can be won" rule by the NHL.
As you might have seen from the photos I posted last night, our seats were great. Section C-19, a corner sport where the Pens would shoot twice. Recently fired ESPN Pittsburgh radio personality Mark Madden kept popping his head in and out of the section and seemed to draw a crowd.
The "white-out" was another success as all fans received a towel and t-shirt. It's pretty sweet to see a sellout crowd of 17,132 all wearing white (save for those few brave Red Wings fans who made the trip). As we got closer to the puck being dropped, you could feel the anticipation growing. The first Stanley Cup Finals game in 16 years in Pittsburgh was destined to be memorable.
I took a video of the opening sequence as the players came out and I have never heard an arena so loud before in my life. It was an amazing display of affection from Pittsburgher's to their team. You couldn't hear yourself talk or even scream in the ear of the person sitting next to you, it was that loud.
During the entire first period, you could feel the tenseness of the crowd and the sheer desire for a goal. When Sidney Crosby put the first one past Chris Osgood at 17:25 of the first period, Mellon Arena just erupted. The fans wanted another reason to cheer other than just for the Pens coming out to the ice, we wanted a goal. A huge sense of relief swept through the building and finally, the hex was broken and the Pens were in the series.
What made me proud about the fans was that second after both Detroit goals, the crowd at Mellon immediately began a "Let's go Pens" chant. In a lot of other building, the home fans might have sat on their hands for a few minutes waiting for something good to happen to their team again. Not in Pittsburgh. There's such a love affair here between the city and the Pens, it's quite charming. Many people might call Penguin fans "bandwagoners", but I'm not sure if many "bandwagoners" would go ahead buy up an incredible amount of season tickets like Pittsburgher's have done. Game Three was the 66th straight sellout at "The Igloo".
The final six minutes of the game after Mikael Samuelsson cut the lead to one were intense. You could feel the nervousness in the crowd, but the it was 0:00 on the scoreboard, it was electric. Game Four on Saturday should be a fun one. What a great game.
Walking out of Mellon Arena, they had a wonderful fireworks display in the city and people were honking their horns all over the place and starting chants left and right. I feel for the people in the city that may not have known there was a hockey game going on last night and heard the fireworks. They might have thought World War III was beginning.
After the fireworks, my buddy and I were waiting for a cab right across the street of the entrance to Duquesne University. It had been about 25 minutes of waiting for our cab that we called to come, but no dice. A fellow Pens fan came up to us and asked us if we wanted a ride back to our hotel as his friend was coming to pick him up. We said sure, and these two classy guys gave us a 15 minute ride back to our hotel without blinking an eye. It might have been the nicest gesture anyone has ever done for me that I did not know personally. If that had been in New York, we'd have been in bodybags by now. If those two guys are reading this, thank you fellas.
Now, some hockey thoughts:
-Brooks Orpik:
Monster
-Gary Roberts:
Beast
-It was great to see the Pens winning the neutral zone. That was their Achille's Heel in the first two games. It seemed as if the Mellon Arena ice was bigger and the Pens had more room to work.
-If you were making a DVD on how to play good, sound positional hockey, watch the Detroit Red Wings. From a pure hockey sense, they play a great game of hockey.
-When the team needed him to step up, Sidney Crosby did. That's why he's got the "C" over his heart.
-Evgeni Malkin may have been held off the scoresheet, but he played a great game. He didn't look lost out there, instead he looks motivated.
-My only regret is that I didn't see Don Cherry.
Now, time for me to head back to New York. I wish I could stay through Game Four as Pittsburgh is going to go nuts on Saturday night. Another do-or-die game for the Pens and hopefully, home-ice advantage will help them yet again.