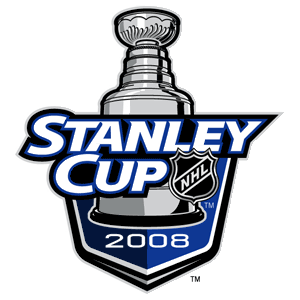 As hard as this is going to be, I will try to present an unbiased
Stanley Cup Finals
preview. Writing up a preview knowing you have a dog in the fight is not an easy job. , but I'll do my best.
Outside of having the Rangers and Kings in the final, thereby drawing the two biggest television markets in the US, the NHL has to be very pleased with this Red Wings-Penguins match-up. Detroit has fans all over the country and have the charm of being an Original Six team. Pittsburgh is the "up and coming" young team with the league's marketing chip in Sidney Crosby. Some folks are out and out saying it'll be the Red Wings in a slaughter. Others think the Pens will outlast Detroit in a long series. What do I think?
Well, I've thought pretty long and hard about this and actually sat on both sides of the fence since Monday night when the final pairing was decided.
Penguins in 6
If there's one thing that's stayed in my head and that I've noticed between the two teams this post-season it's been depth. Both Detroit and Pittsburgh have pretty good third and fourth lines, hell the Red Wings third line center is Johan Franzen. Not too shabby. When you reach the Stanley Cup Finals, you sure as hell have good depth players.
What will be the X-factor?
Goaltending.
Say what you want about Marc-Andre Fleury, but he will carry the Penguins in this series. For some reason, people still have their doubts about him, even though he's been spectacular since coming back from injury and is currently sporting a 12-2 record, 1.70 goals-against average, and a .938 save pct. Oh, and three shutouts as well. He is the current
"hot playoff goalie"
and this playoff season can be his coming out party. Fleury has faced much scrutiny after being the number one pick in 2003, but let's not forget, the kid is still only 23 years old. Most goaltenders don't develop until around 28, so at the moment, he's ahead of schedule. His improved rebound control and crease positioning has helped turn him from a wanna-be spectacular goalie to one that has the trust of his defense.
Chris Osgood has anchored the Detroit defense after replacing Dominik Hasek in the first-round and ripped off nine straight wins. He was pretty solid in the regular-season, but only started 40 games. He certainly is fresh and coach Mike Babcock won't have to worry about his starting goaltender having any rust. You might even say that Osgood is an underrated goaltender in the grand scheme of things. In his 14-year career, Ozzie has 363 wins and a 2.43 GAA. He won a Stanley Cup in 1998, so he knows what it takes to win the Finals.
I think Fleury will ride his hot streak to a Cup win.
We all know the offensive firepower that Pittsburgh possesses, but more importantly, it's their youth and speed that will assist them. Sure, Detroit has the experience x100 on their side, but will that affect them negatively? Will the Red Wings patience be overcome by the Penguins youthful exuberance and energy?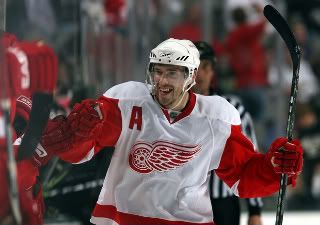 There's no need to go in-depth about either teams top lines. We know what Sidney Crosby, Evgeni Malkin, Henrik Zetterberg, and Pavel Datsyuk will bring to the table. It'll be how the defenses play them that'll dictate the final tally. Detroit's defense is solid as any around. Nicklas Lidstrom is world-class and, though he might be 89-years old, Chris Chelios still has some gas left in the tank. Pittsburgh on the other hand has developed a solid defense corps, something they've sorely lacked the few seasons. Shutting down Dany Heatley, Daniel Alfredsson, Jaromir Jagr, and Daniel Briere just goes to show you that this Pens blueline is for real. Zetterberg and Datsyuk may not have an easy time getting off quality scoring chances.
There you have it, my Stanley Cup prediction.
Tell me your prediction in the comments.