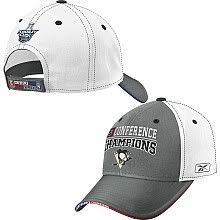 Thanks to a poster over at the
Let's Go Pens message board
comes a chance for you to order your Eastern Conference Champion Penguins hat, hours before they hopefully are able to officially close things out.
The hat is being sold via
Shop.com
and just for my own curiosity, I did a search for a Flyers champion hat and, well, no dice.
UPDATE
: Not a Pens fans? Well the Detroit Red Wings
locker room hat
is also available.
UPDATE #2
: More Pens merchandise is
now available
. Hey, STOP IT PLEASE!!! You're jinxing the boys.