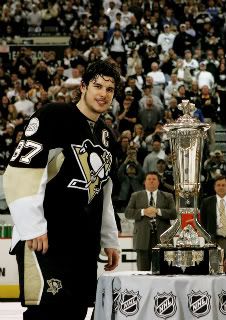 Prince of Wales Conference Champions
It's obvious today that Game Four was nothing but a blip on the radar screen of the Pittsburgh Penguins. THAT is how you finish a series and send a shot to whomever your Stanley Cup Finals opponent will be. Right from the start the Penguins were in the game and Ryan Malone's first goal early on really put the Flyers on their heels. I didn't see any sense of urgency in the Flyers today and once Marian Hossa made it 3-0 in the second period, Philadelphia just skated it out the rest of the way.
Other Prince of Wales Conference Champion thoughts:
-Marc-Andre Fleury is slowly creeping up the Conn Smythe Trophy rankings. What a show he put on today with 21 saves, as well as a couple of huge ones including a point blank shot by Jeff Carter. it might be the white pads, it might be his better rebound control and shot positioning...whatever it is, keep it up MAF.
-Robert Scuderi. +8 in the post-season. Solid.
-Jordan Staal with a late breakout? Certainly can't come at a better time.
-So I'm going to go out on a limb here and believe that Kimmo Timmonen's absence wasn't the reason Philly lost. I guess it was the absence of Braydon Coburn.
-Sidney Crosby decided to go with superstition and not touch the Prince of Wales Conference Trophy. It looked as if Bill Daly was telling him to pick it up, but he wasn't having any of that. Those conference trophies sure are the red-headed step-children of the NHL. No one wants to give them any love.
-Penguins are now 8-0 at home in the playoffs. Who says home-ice advantage is dead?
-The next time we'll see the Mellon Arena rocking is either Game One if Dallas does the improbable and prevails or Game Three if Detroit can finally close it out.
-If the Red Wings can close it out tomorrow night, it looks like Saturday night could be Game One of the Stanley Cup.
-For those readers in the Pittsburgh area, I will be at "Pens Home Game 1", whenever that is, so give me a shout if you're going to the game too or want to grab a beer or eleven after a Pens win.
UPDATE:
Philadelphia's biggest fan gives his concession speech:
UPDATE #2
: Apparently, "phillyphreak93" has deleted his entire YouTube account. Ouch. In his place is the legendary Mike Lange and his call at the end of yesterday's game.