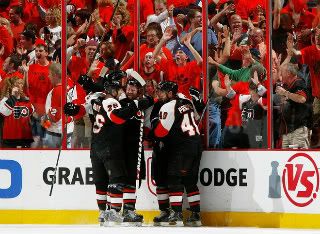 Two periods too late
It's frustrating as a fan to wait the 48 hours in-between games and then, when it's finally time to drop the puck, watch the Penguins put up a dismal performance in the first two periods. There was no jump. They took stupid penalties and they could not answer to the Flyers, who relentlessly came out of the gates from the start. Philadelphia deserved the win, even if the Pens made it a game a little too late.
Other Game Four thoughts:
-Somewhere in heaven, Granpa John is smiling. What a game by Jordan Staal tonight. A day after burying his grandfather, he was one of the few Penguins who showed up at thw Wachovia Center.
-Co-MVP for the Pens tonight: Tyler Kennedy. He recorded both assists on Staal's goals and brought some spark to Pittsburgh tonight. I wouldn't be surprised to see TK get a huge goal (his first of the playoffs) come Sunday afternoon.
-Is it just me or has Pascal Dupuis been very disappointing in this series? He was a sparkplug during the regular-season, but in the playoffs he's shown nothing but terrible shooting accuracy and not a lot of jump, even with playing alongside Sidney Crosby.
-SHOOT THE PUCK PITTSBURGH! This might sound funny to say to a high-powered offense like the Penguins or to a team that put up 38 shots tonight, but consistently I'm seeing one too many strides, one too many passes, and one too many moves. Just get the puck on net and who knows what'll happen. Two of the biggest culprits of this is Sidney Crosby and Kris Letang. I think Sid is thinking pass-first way too much and LeTang, for some reason, has a lack of confidence in his shot. During the season, one of the few times LeTang showed confidence was when he was in a situation when he had no choice but to let it rip: the shootout.
-You can't score goals if all of your shots are at Martin Biron's chest or right to his glove.
-You have to hand it to the Flyers. They had no choice but to win this game and came out all hands on deck. There was a sense of urgency in that first period and Marc-Andre Fleury was blasted with 17 shots and 3 goals, easily the worst period in the playoffs so far.
-Telling stat: Philly 2-4 on the power-play. The Pens: 0-6.
-Before this game, the pressure was all on the Penguins and it will remain the rest of the series. When you have opportunities to close out an opponent, you have to capitalize on all of your chances. Throwing a lifeline to the Flyers can be dangerous. Philly has no pressure on them. Their backs are up against a wall that has no opening. It's all on the Penguins backs now to close this series out on Sunday at home, much like they did to the Rangers two weeks ago.
Sunday at 3pm ET can't come soon enough.
The Prince of Wales Trophy will be in house again. I think it's time that baby made an appearance.
Let's Go Pens!