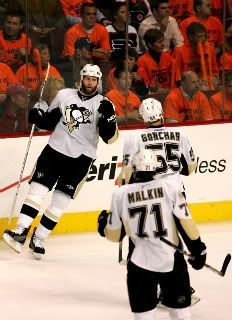 Grinding out a victory
There wasn't a lot of pretty hockey on display tonight in the Wachovia Center. It was a pure physical battle which was determined by who would make the last mistake. In this case, it was Steve Downie, whose turnover in the Penguins zone led to Ryan Malone's nail in the heart goal. It was at that point that Wachovia Center and my local library sounded exactly the same.
On to more Game 3 thought processes:
-Like I said before Game 3 of the Pens-Rangers series, an early goal for the Pittsburgh would be huge. Tonight,
both
early goals were huge and deflated a riled up Philadelphia crowd.
-Can the Penguins newfound defensive prowess get some love? The Flyers only managed eight shots through the first two periods. What a smothering display. Philly's top guys have to be completely frustrated to have only scored five goals through the first three games.
-Gary Roberts didn't get pneumonia today. Pneumonia got Gary Roberts and failed. (OK, that's my last lame attempt at a "Gary Roberts Fact" joke.)
-I said the last two games that Marty Biron should stay away from handling the puck. Well, Marc-Andre Fleury now has that honor tonight. Boy did he look shaky going out and getting the puck behind the net. Twice his miscues almost led to Philadelphia goals.
-Creative Flyers fan sign of the night: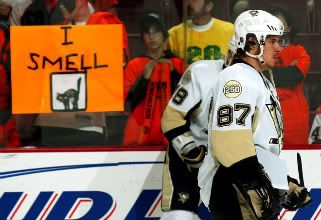 -Telling stat: Philadelphia 0-4 on the power-play.
-Hooking calls on both teams were pretty weak. I think the league needs to look at that call and try and tweak what's a hook and what's not a hook. Daniel Briere's stick touched a Penguin players hands for a second and that was a penalty. I understand if the stick gets up in the players hands that a hook, but it should only be if the player's progress is seriously impeded.
-Quiet stat of the night: Rob Scuderi, +2. He's a +7 in the playoffs folks.
-Nice late hit by Steve Downie on Petr Sykora after the Ryan Malone goal. That's okay. Downie is the goat tonight. Let him go home and sleep on that.
-Before Penguins fans begin making their Stanley Cup finals plans, hold off. As a New York Yankees fan, I know not to get ahead of yourself. It takes four games to win a series and some crazy bounces can happen. Let the Penguins side of the ledger read "four wins" first, then celebrate.
-Speaking of celebrating, how sweet (sweep?) would it be to accept the Prince of Wales Trophy on Flyer ice Thursday night?
Every game from here on out will be the biggest of the season for Pittsburgh. Blood pressures are going to rise. Muscles will tense up. Hairs will be pulled out. It's playoff hockey. It doesn't get any better than this.
Let's Go Pens!