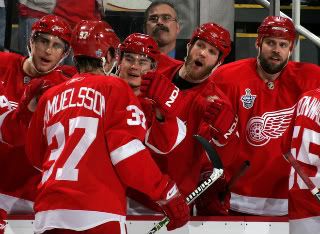 Unchartered waters
They were on the road for the first game in a series for the first time and now, they trail in a series for the first time in the playoffs.
Pittsburgh has faced little adversity so far in the post-season and as they sit in front of their final hurdle, their backs are firmly against the wall. They were outplayed, out shot, and out hustled tonight, something they are surely not used to. The Red Wings defense shut down the offensive juggernaut that the Penguins brought into Joe Louis Arena. It was a frustrating night for a team that somehow managed to post 19 shots on Chris Osgood.
It is just one game and to me, it's a good loss. Pittsburgh's been so dominant in the playoffs and have yet to have that "worried" feeling in their gut. They needed a good ass kicking. The 4-0 loss might be a well-needed wakeup call for the team and make them realize that winning the Stanley Cup isn't as easy as the first three rounds made it seem to be. Michel Therrien and his coaching staff now realize what they're up against. Detroit is a complete team on both sides of the ice. They need to figure out a way to get quality chances on Osgood and breakdown the Red Wing defense.
The good that the Pens can take from the loss is that Detroit's first two goals came off of boneheaded mistakes. Jarkko Ruutu's failed clearance to get a line change and the mixup in the back between an unexpectant Evgeni Malkin led to both of Mikael Samuelsson's goals. Dan Cleary's short-handed tally late in the third was the result of a friendly home-ice bounce off the boards. Those were bad goals that could have been avoided. Hopefully, Pittsburgh will now realize any minor mistake will be deadly and whatever chances they get (0-5 on the power-play) they must cash in on, otherwise Motown will be celebrating a fourth Stanley Cup title in eleven years.