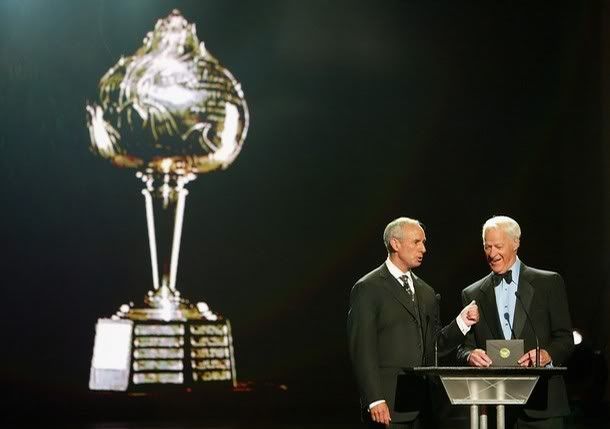 Back in early May, thanks to an idea from Joe Pelletier of
Greatest Hockey Legends
, I emailed a ton of hockey bloggers asking for their winners of the NHL awards for this season. I received a lot of responses once the nominees were announced and below is the final tally.
HART TROPHY
Alex Ovechkin 18
Evgeni Malkin 3
Jarome Iginla 2
NORRIS TROPHY
Nicklas Lidstrom 19
Dion Phaneuf 3
Zdeno Chara 1
ADAMS TROPHY
Bruce Boudreau 12
Mike Babcock 8
Guy Carbonneau 3
VEZINA TROPHY
Evgeni Nabokov 14
Martin Brodeur 6
Henrik Lundqvist 3
CALDER TROPHY
Patrick Kane 11
Jonathan Toews 9
Nicklas Backstrom 3
LADY BYNG TROPHY
Pavel Datsyuk 12
Martin St. Louis 7
Jason Pominville 4
SELKE TROPHY
Henrik Zetterberg 12
John Madden 7
Pavel Datsyuk 4
HOWE AWARD (the bloggers version of the Pearson)
Alex Ovechkin 11
Evgeni Malkin 3
Sean Avery 2
Nick Lidstrom 2
Sidney Crosby 2
Brendan Morrow 1
Mikko Koivu 1
Scott Niedermayer 1
Seems to be the status quo on who the favorites are. Should be interesting to see how things pan out for real tomorrow night.
Thanks to the following bloggers who participated:
Michael Dell:
LCS Hockey
JP:
Japer's Rink
James Mirtle
Scotty Wazz
Rudy Kelly:
Battle of California
Scotty Hockey
Lyle Richardson
Matt Saler:
On the Wings
Joe Pelletier:
Greatest Hockey Legends
Tom Benjamin
Kevin:
Barry Melrose Rocks
Chris:
Taking One for the Team
Kyle Chew:
Battle of California
Sherry:
Scarlett Ice
Cat Court:
Untypical Girls
Kirsten Barta:
Land of Lakes and Hockey
Christina:
NYR Devotion
Cassie Ellis:
Anaheim Duck Fan
Acid Queen
Elise:
18,568 Reasons Why
Amy:
My Tribe
Connie:
A Queen Among Kings
Matt:
Battle of Alberta