When you're a fan of a sports team, you live and die with them every single day of the season. You feel the bumps and bruises during the year in your own individual way.
You get excited when training camp starts to creep up.
You maneuver your life schedule around game days.
You memorize every player's number, their nicknames, places of birth, and jersey size.
You put off work to scan message boards and websites to gather the latest news and rumors.
When the playoffs come around, all bets are off. Loved ones are ignored. You have trouble concentrating at work on game days. You live and die with every shift. The Cup changes everything.
You live with the ups and die with the downs. Your heart sinks with every goal against and accelerates with every goal for.
You're a hockey fan and you love your team.
Fans in both Detroit and Pittsburgh are at opposite ends of the spectrum of emotion right now. One is on top of the world right now. The other, silenced and stunned after watching their team leave everything they had on the ice.
Detroit deserved this Stanley Cup. They were the better team over the course of the six games. Their defensive system completely frustrated and shut down the high-octane Penguin offense.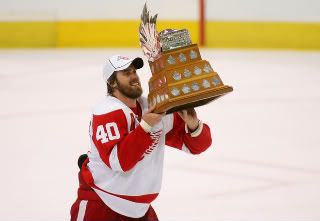 Frustrated is the word of the series for Pittsburgh players and fans. A team that posted 247 goals during the regular-season was not used to working that hard for goals and scoring chances. They hadn't seen a Henrik Zetterberg, the deserved Conn Smythe winner. Fans were frustrated too.
How many times did Penguin fans yell, "SHOOT THE PUCK" during the series? Pittsburgh didn't shoot the puck enough. They looked for the extra pass or pretty play far too often.
The fourth ranked power-play team during the season looked out of synch,
frustrated
, and timid. The Red Wings did not let them bring the puck into the zone easily. There was a lot of dump and chase done by the Pens this series, but to Detroit's credit, they're defensively responsible and sound, and always had their players supported along the ice for outlet passes.
There's a feeling of sadness in Pittsburgh and all throughout PensNation right now, but not disappointment. They can only be proud of their team and every single member contributed in someway or another this season. From the Jeff Taffes, Dany Sabourins, Adam Halls, Jarkko Ruutus, and Georges Laraques of the team, the Penguins depth helped get them to where they finished.
Next season, the roster will look a lot different than it did tonight. Gary Roberts probably won't be back. Marian Hossa won't be back. Where will Ryan Malone and Brooks Orpik be next season? Will Ty Conklin return as a veteran backup for Marc-Andre Fleury? What will the salary cap number look like come October after Evgeni Malkin, Jordan Staal, and Marc-Andre Fleury likely sign new deals?
One thing is for sure, there's a core group of young guys in the home teams locker room at Mellon Arena right now staring into space. They're thinking about what could have been. They're thinking about those final three seconds (Hossa's last chance would not have counted as time would have run out before the puck crossed the line) and replaying it over and over in their minds. They're thinking about this entire run, from September until June 4th. They're reliving each magic moment this season. They're realizing they have something special in that room. They realize how close they came to achieving their ultimate goal.
They're already thinking about next season.