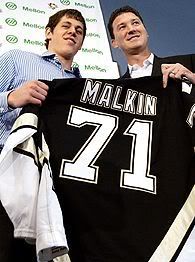 A report yesterday from
Bruce Garrioch of the Sun Media
suggested that the Penguins might offer Evgeni Malkin to the Los Angeles Kings for the #2 overall selection in tomorrow night's entry draft and a player, possibly Mike Cammalleri.
Garrioch says that if
Pittsburgh
is able to sign Marian Hossa, attempting to sign Malkin next summer to an extension, it could pose salary cap issues for the team, thereby forcing them to deal some high-priced talent.
Kings general manager Dean Lombardi was quoted as saying, "I've had two legitimate offers," said Lombardi. "I've spoken with ownership and we've agreed that we're going to build here for the long term. To trade away that draft pick, we're going to have to get a lot of value. I'm not seeing things change a whole lot (before tomorrow)."
Now, if there is an ounce of truth to this deal, the Kings should jump on it in a heartbeat. It's a no-brainer for a team that hasn't made the playoffs since the 2001-02 season.
On the other hand, I don't believe this for a second. This is just an attempt to stir up some trade winds the day before the draft and for Garrioch to up his page views. To think that the Penguins would trade their MVP of this past season, after he's already stated he wants to stay, is ridiculous. I'll even go out and say this:
If the Penguins trade Evgeni Malkin this off-season, I will eat my socks. Not just any socks, but a pair of hockey socks I've worn after one of my games.
UPDATE
: As I suspected, the rumor is nothing more than
FALSE