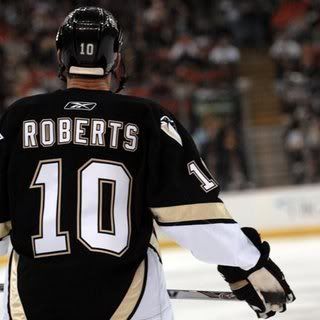 Solid deal by Ray Shero. He
deals two players that weren't coming back in the first place to Tampa Bay for a fourth-round conditional draft pick
. The condition? If Malone signs, then the pick becomes a third-rounder.
Can't say anything more than it's a good deal for the Penguins. It could completely backfire on the "
aggressive
" new Lightning ownership. Tampa has until Tuesday to strike a deal with both players before they enter the open market. Roberts has
long been rumored to wanting to play in either Toronto or Ottawa to be closer to family
. Malone seems to be basically just looking for
any team that wants to pay him $4-5 million a year.
If both decide to not sign in "Hockey Bay USA", then a team that needs a facelift just lost a pretty decent draft pick.
UPDATE:
Sportsnet is reporting
that Tampa is close to signing Malone and Roberts to deals:
" A day after trading for their rights, The Tampa Bay Lightning are close to signing
Ryan Malone
to a long-term year deal that will exceed $30 million and
Gary Roberts
to a one-year year deal that has the potential to reach $2 million, Sportsnet has learned.
An announcement could come as early as Monday. "