While you were enjoying Ron McLean's attempt at comedy and "Stompin'" Tom Connors, here's the All-Star and All-Rookie teams, which are both are voted on by the Professional Hockey Writers Associated
All-Rookie Team
G- Carey Price
D- Tobias Enstrom
D- Tom Gilbert
F- Nicklas Backstrom
F- Patrick Kane
F- Jonathan Toews
All-Star First Team
G- Evgeni Nabokov
D- Dion Phaneuf
D- Nicklas Lidstrom
RW- Jarome Iginla
LW- Alex Ovechkin
C- Evgeni Malkin
All-Star Second Team
G- Martin Brodeur
D- Brian Campbell
D- Zdeno Chara
RW- Alex Kovalev
LW- Henrik Zetterberg
C- Joe Thornton
So, it looks like the general managers who vote on the Vezina Trophy and the PHWA disagreed on top goaltender.
Finally, here are the vote tallies for the major awards handed out: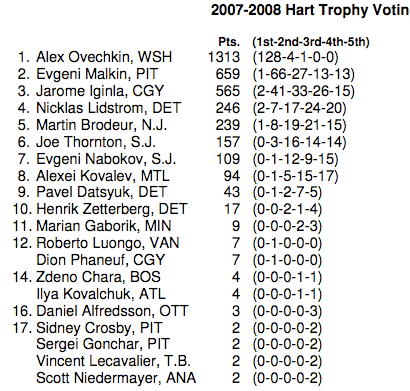 Kind of interesting that Ovechkin didn't win it unanimously. Brodeur and Lidstrom stealing a couple of first-place votes. Two people really had Scott Niedermayer fifth? Really?
Looks like this one was closer between the top two than many expected. Not a lot of love there for Lundqvist.
Another one that many seemed to think would be unanimous. Brian Campbell, a first-place vote? Mark Streit with a second-place vote?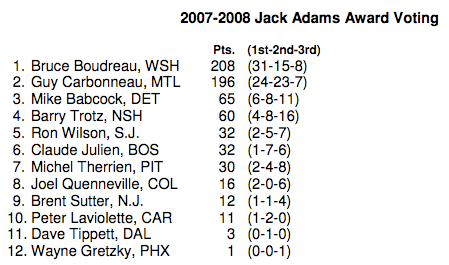 This is a good one. Peter Laviolette garners a first-place vote. It also seems as if the voter were almost split on Boudreau and Carbonneau. And Mike Babcock's third 50-win season in a row did not factor in many decisions.
Kane with the runaway victory.
The show in general was pretty boring and it was great of Versus to screw up the first four minutes of the show here in the US. No worries. Apparently, we only missed "Stompin'" Tom Connors.
Did anyone else notice anything special about the young kid who was up on stage when Nicklas Lidstrom accepted his Norris Trophy? Yep, that kid was sporting a "
LINDSTROM
" jersey. Who's getting fired for that? Thanks to Seth Rorabaugh of the
Pittsburgh Post-Gazette's Empty Netters
for the pic.