In late May,
weeks after I declared my eligibility for the 2008 NHL Draft
, I ventured to Toronto for the
NHL Draft combine
. The top prospects from North America and Europe made the trip in order to show their physical and mental attributes to representatives from all 30 NHL clubs. This is a chance for players to improve or hurt their draft stock. A good combine could result in a higher selection which in turn results in a bigger paycheck.
Here's a photo journal of my time at the combine.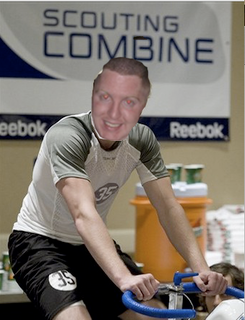 My first attempt at the bike. I started out well, but the gear I was
wearing wasn't so great at being "dri-fit" so I switched



The bike was killer. I didn't need to use "the bucket",
but I came very close to it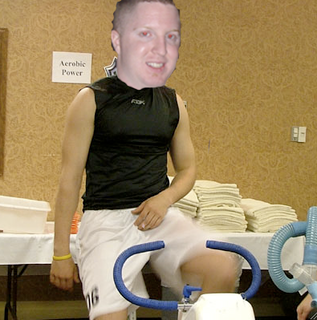 I'm sorry if I made you blush ladies



My vertical leap impressed a number of folks in attendance. Somehow, a
New York Knicks scout was there and offered me a 5-year deal. I thought I heard him utter, "Screw LeBron" under his breath, too.



When you go through a lot of strenuous physical test, push-ups are a bitch.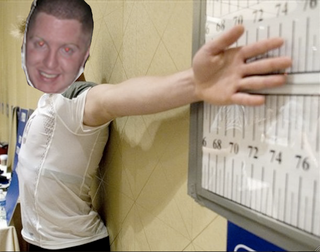 My wingspan is nothing like Michael Jordan's, but I
make up for it with a few extra inches on my stick.



My reverse-blue steel pose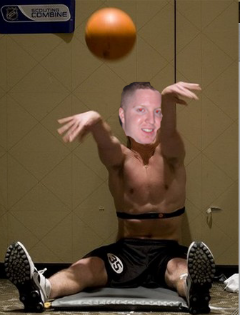 Tossing a weighted ball sitting down. Tough stuff, but I was
able to impress the few scouts who saw my throw. Again, the Knicks scout was dreaming off cross-court chest passes and offered me another contract.



The lady measuring my specs couldn't keep her hands off me. The woman
behind me was staring at my rear for about five minutes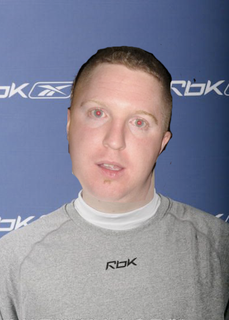 The photographer snapped my headshot seconds after I
found out they were out of Rold Gold pretzels.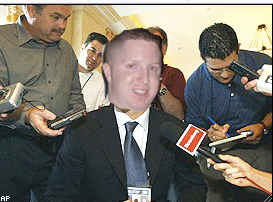 The media were on hand after hearing about my declaration.
Bob McKenzie was very interested in my contract demands if I was drafted.


(Ed note: I understand the photoshops are pretty crappy, I apologize. I'm definitely not up to par with the boys and girls that make ThePensBlog so amazing. This was my first time and well, there's much work left to be done)
Coming up tomorrow, my day at the 2008 NHL Draft
Previous:
My NHL Draft Declaration