This article was written on April 7th, the day after the regular-season ended and before the NHL Award nominees were announced.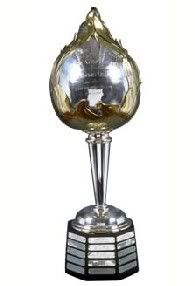 Hart Trophy
-
Alexander Ovechkin, Washington
-A record breaking season for the 22 year-old Russian. His 65 goals are now an NHL record for left-wingers. He's also taking home the Art Ross Trophy for winning the scoring title. OV's energy is contagious and one of the many reasons why the Capitals second-half surge helped secure them a playoff berth. In other words, is there really any other choice?
2. Evgeni Malkin, Pittsburgh
3. Jarome Iginla, Calgary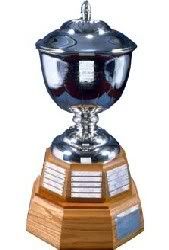 Norris Trophy
-
Nicklas Lidstrom, Detroit
-The steady presence on the Red Wings blue-line. Mr. Reliable. He should win his sixth Norris this year after posting 70 points and an astounding +40. The next highest +/- for a defenseman was Duncan Keith's +30. The way Lidstrom plays the game at age 38, he's more than capable of playing 4-5 more years at the highest level and challenging Bobby Orr for the most Norris Trophy's all-time.
2. Zdeno Chara, Boston
3. Sergei Gonchar, Pittsburgh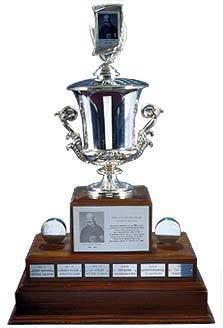 Jack Adams Trophy
-
Bruce Boudreau, Washington
-Imagine if Boudreau has taken over the Capitals at the start of the regular season and not the day after Thanksgiving? There's a good chance they could have battled Pittsburgh and Montreal for top seed in the Eastern Conference. He inherited a 6-14-1 team struggling to find consistency on the ice. Boudreau went and posted a 37-17-7 record this year, leading the Capitals to the Southeast Division title and a third-seed in the East. He was able to get something out of his players that Glen Hanlon could not.
2. Barry Trotz, Nashville
3. Michel Therrien, Pittsburgh
Calder Memorial Trophy
-
Carey Price, Montreal
-Price was brought up under a tremendous amount of hype. After leading Canada to gold in the World Junior's, then Hamilton to an American Hockey League title, it was safe to say he was born to win. With the pressure of being a goalie phenom playing in Montreal, Price was given the number one starting job after Cristobal Huet was dealt on Deadline Day, which he's gone 12-3 since, including seven wins to close out the regular-season. With comparisons to other successful Montreal rookie goaltenders , Price put up a 24 win season, .920 save pct%, and a 2.56 goals-against average.
2. Patrick Kane, Chicago
3. Nicklas Backstrom, Washington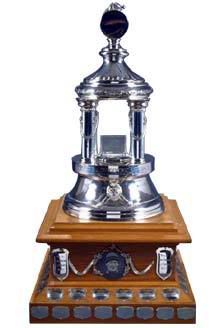 Vezina Trophy
-
Evgeni Nabokov, San Jose
-Played in a career high 77 games and posted a career high in wins with 46. A solid 2.14 goals-against average and six shutouts give Nabby the edge over Brodeur. A consistent presence in net and the backbone of a Sharks team that won 18 out of 20 games down the stretch.
2. Martin Brodeur, New Jersey
3. Henrik Lundqvist, NY Rangers
We shall find out the winners Thursday night, June 12th at 7pm ET.