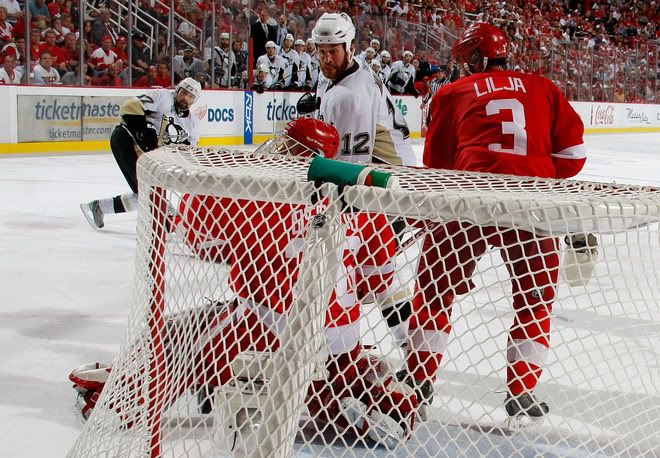 Cardiac kids
I don't even know where to start. This was by far the best game of the playoffs. Yes, the Sharks-Stars was up there, but this had much more on the line.
Wow. Even if you're not a fan of either team, you had to be on edge throughout the entire game. So much back and forth action. Plenty of scoring chances. And overtime playoff hockey.
My brain is scrambled right now, here's what else I thought:
-Marc-Andre Fleury needed to play the game of his life and he did. What a performance. Save after save after big save, keeping the Penguins alive, even with the Red Wings seemingly in the Pittsburgh zone for the entire game. He had 55 saves in total and this game should give him some added confidence for Wednesday night.
-Best player in the world at the moment? Henrik Zetterberg by far. Such a dangerous presence on both sides of the ice. He's got incredible creativity and is so strong on the puck.
-Max Talbot and Petr Sykora are now heroes wherever they roam in Pittsburgh.
-The goaltender interference call, I think, is similar to that of the referees protecting the quarterback in the NFL. I think it's kind of a chintzy call at times. I have to think they interpret the call on Dan Cleary like the high-stick. You have to keep control of your stick at all times, same with your body I guess. I'm just glad the game wasn't decided by the Pens on either of those calls.
-I'd like to thank Mike Emrick for reminding me throughout overtime that "next goal wins".
-Have you ever seen a game where the referees were in the way of pucks and players so many times? Nice hip check by Adam Hall by the way.
-Every time I saw Nicklas Lidstrom wind up for a slap shot from the point, I thought "game over". I was waiting for a tip, screen, or some kind of rebound to go in. Thankfully, it didn't happen.
-Mellon Arena is going to be so loud on Wednesday night, they might blow the roof off, thereby allowing Jean-Claude Van Damme to land his helicopter.
-Ryan Malone: gamer. Sergei Gonchar: gamer. What leadership by both of those guys to come back and contribute for the rest of the game. That's what playoff hockey will do to you.
-Will Max Talbot's goal live in infamy in Detroit? Could this game be a tide-turner in the series? I think many people will say yes because it's such a gut-wrenching loss for Detroit, being 30 seconds away from lifting the Stanley Cup. I don't think it'll be that big of a factor. The Red Wings are such a veteran team that they've all had plenty of tough losses in their careers, this one will hurt, but it'll be out of their minds by the morning.
-NBC and the NHL were probably wetting themselves during this game. I would have to believe tonight's game will draw the highest rating of the series so far, of course with the Cup in house, but also because of the multiple OT's.
I don't even know what else to say, except Wednesday night can't come soon enough.
Let's Go Pens!