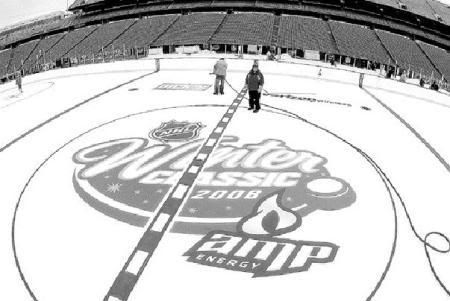 Jeez, I work a long day and a lot of news breaks. So much to catch up on, so little time.
First, the big secret was revealed today that the
2009 Winter Classic would be between the Red Wings and Blackhawks at Wrigley Field
. Everyone's known this for weeks, but the league had to wait to make it official on the biggest non-sports news day of the year as well as in conjunction with the upcoming
Blackhawks fan convention this weekend
.
Next, the
Penguins announced their pre-season schedule, as well as some info of the regular season fixtures
. Pittsburgh kicks off the pre-season with home and home's against Tampa Bay and Toronto. They then head to Europe in preparation for the regular season opener in Stockholm with an October 2nd game against Finnish Elite League team Jokerit. October 4 and 5 will begin the schedule with games against the Senators. A week later, the Eastern Conference champions banner will be raised on October 11 at Mellon Arena against the Devils.
The full schedules for every team will be announced tomorrow. Division opponents will play each other six times and four times against conference foes. Every team will against the other conference once while three other conference opponents twice. In the Pens case, they'll match-up against Detroit, San Jose, and Columbus twice, which means Marian Hossa will be returning to Pittsburgh and will have to prepare for some loud boo's.
The
Maple Leafs announced that they've added one pre-season game to their schedule
which will see the franchise give away all 20,000 tickets for free.
In a surprising signing, the Thrashers inked goaltender Kari Lehtonen to a one-year deal, worth $3 million today, which, as
Craig Custance of The Sporting News points out
, means the backup goalie, Johan Hedberg has a longer contract.
Be sure to check out
Yahoo!'s Puck Daddy
for my article on the top games of the 2008-09 NHL season you won't want to miss.