Draft day is the culmination of years of hard work and years of early mornings for parents. The same parents who wake up at the crack of dawn to get their kids to the rink for the only available ice time. It's a wonderful day of celebrating the game of hockey and the graduation of junior players into the NHL ranks.
Once I declared for the draft and went through the combine, there was a lot of speculation as to where I would land. Some pundits had me going in the second or third rounds, while others had me a late first-rounders. Well, it turns out a rumor started my Bruce Garrioch about possible contract demands on my end ruined my draft stock. It was completely false and I think it had something to do with me calling BS on his Evgeni Malkin trade "rumor.
Turns out, I fell late in the seventh round to....well, you'll just have to find out.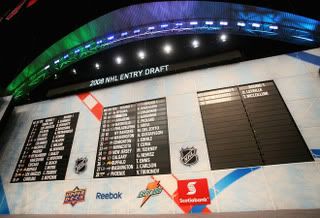 Ottawa was the scene and it was a long, long way in Scotiabank Place




Finally, in the seventh round, my name was called. It turns out my beloved Pittsburgh Penguins took a chance on me, especially since they knew they'd be needing some wingers.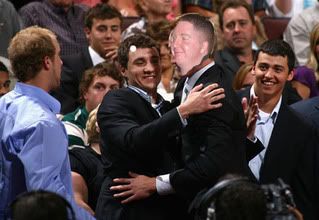 Family and friends greeted me as I made my way to the
stage to meet Commissioner Gary Bettman.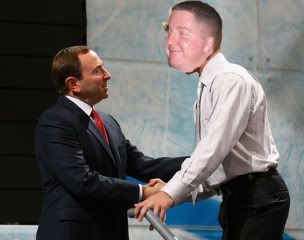 He's very tiny up close. He's like Danny Devito, but with more hair.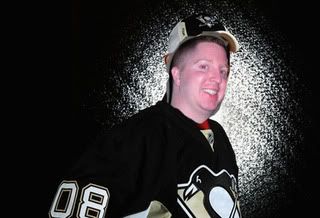 The money shot. In Ray Shero, I trusted.



Up next is to come to terms on a contract. I think the Pens have seen enough of me to know what to expect. Now that Ryan Malone, Gary Roberts, and possibly Marian Hossa are gone, the Penguins need some wingers that can score. In order to get a deal done, I've hired the ORR Hockey Group and will be represented by the legendary Bobby Orr.

Once I put pen to paper, then it's time to get down to business and put some pucks in the net.





(Ed note: Again, I understand the photoshops are pretty crappy, I apologize. I'm definitely not up to par with the boys and girls that make ThePensBlog so amazing. This was my first time and well, there's much work left to be done)