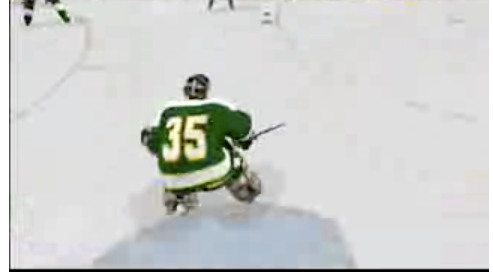 What you see above is a screen grab from the
newest trailer from NHL 09
, which showcases it's defensive skill stick. As
mentioned in an earlier post
, EA is including some old-time jersey's in this year's edition and the Minnesota North Stars is one of them. EA Sports producer David Littman also mentioned in his first blog post another retro jersey among the lot would be the California Golden Seals.
My question is how that's going to work. Obviously, if you choose the Dallas Stars as your team, you'll have the opportunity to use the North Stars jersey, but what about the Golden Seals? Will they be placed under the Dallas Stars banner since the Seals merged with Minnesota in the late 1970's? Or will the Seals be an unlockable team with players featuring generic numbers? A boy can dream.
I'm going to go out on a limb (okay, hope) and say that jersey's like the Quebec Nordiques, Winnipeg Jets, Hartford Whalers, and maybe even the Kansas City Scouts and Atlanta Flames make the cut and find themselves in the game. I think that'd be pretty cool and a nice touch for the hardcore hockey fan.
In the
IGN hands-on preview
, different helmet variations were mentioned and ended with,
"Of course if you don't want to play with a helmet, you can always pick the Canadians Legends team. Those boys know how to hit."
Is that some sort of joke or a serious addition to NHL 09? Again, that'd be cool.
September 9th can't get here soon enough.