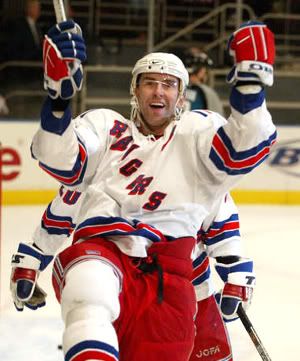 There was a joke last season that after it was announced that the Rangers would be playing the Lightning in Prague, that there'd be no resident Czech's left on the New York roster to help promote the trip. Everyone was speculating about Jaromir Jagr's future. Martin Straka and Marek Malik were as good as gone. The only ones left were Petr Prucha and Michal Roszival, who aren't exactly big name draws.
Well, according to the
Czech website DeniksSport
, long-time NHL'er Petr Nedved will attempt a comeback with the Rangers in training camp. Nedved played in the Big Apple from 1998-2004 posting some decent numbers before moving on the Oilers, Coyotes, Flyers and one last time with the Oilers in 2006-07. Last season he played with HC Sparta Praha of the Czech Extraliga where he scored 20 goals and 5 assists in 42 league games.
If he makes the team, that'll make three Czech players on the New York roster, all not named "Jaromir Jagr". I guess that's not what the NHL had in mind when they organized these opening games.
On a side note, how is it that the Red Wings aren't going to play in Stockholm, but the Penguins (zero) and Senators (one) are? Detroit currently dresses seven regular Swedes a night. Not that the games in Prague and Stockholm won't sell out, but hell, having the defending Stanley Cup champs and seven of their players coming home would create some great buzz in Sweden.