We're under two months away from the release of EA Sports' NHL 09 and currently in the midst of E3, the big electronics expo that showcases the newest videogames and goodies for tech geeks.
It's the time of year where fanboys (and girls) will scour the internet looking for the newest bit of information because waiting to find out, well, just isn't in the cards.
Count me in on that boat. I've been visiting the EA NHL 09 message boards on a daily basis to find some sort of nugget to wet my appetite.
It was yesterday I found a possibly huge piece of information regarding the upcoming NHL 09 game. The Winter Classic mode?
On the boards are a couple of moderators were invited by EA to Vancouver to get an inside look at the game. They pretty much know everything about the game , but at the moment, have to hold back some information in order to not ruin any surprises EA has in store.
Eric Lamontagne also known as "Oilersguru" is one of those guys and back in June he posted a blog on the message boards with a lot of good information such as:
-NHL 94 controls
-3 stars of the game are shown on the ice
-Delay of game and 4-5 minute high-sticking penalties
-Possibility of playing online 6 v 6
-International leagues: Russian, German, Czech Elite leagues and Swedish and Finnish
tournaments
-User-created breakout plays
This is just a sample of what's included in this year's edition.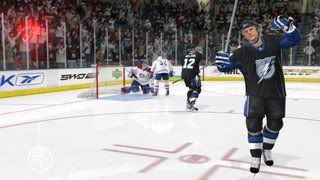 I emailed Lamontagne some questions about NHL 09 and here's what he had to say.
Going Five Hole: How did it come about that you were able to attend the NHL Community Event in Vancouver?
Lamontagne: I am the moderator and community leader for the NHL EA forums
GFH: From what you know and can divulge, what is the biggest improvement to NHL 09 from 08?
EL: Core game play, was the main focus this year
GFH: I know there will be some retro jersey's available in the game. Will be playable from the start or unlockable? How many vintage jersey's can we expect to see?
EL: Can't say
GFH: Many NHL teams will be unveiling a third jersey for the 08-09 season. Will these be unlockable with a password like we saw last year with the RBK Edge jersey's?
EL: They did not state if there was a code or not, but that would be my guess.
GFH: When can fans expect the NHL 09 demo to be downloadable?
EL: about one to two weeks before the official street date.
GFH: There's supposedly a game mode that's pretty wild that'll be included in 09. Could it possibly be a Winter Classic mode?
EL: Can't say
GFH: Could explain a little bit about the "legendary move" addition?
EL: They are move only skilled players in the game can pull off, moves that made names for players. I can not go into to much detail about the moves though.
GFH: Will the fantasy draft be brought back?
EL: not this year
GFH: What new additions can we expect to the dynasty mode?
EL: Contracts, scouting, player development, AI for the Defence and Goalies have been improved, breakouts,etc
GFH: What sort of expectations can we have to the new Be-A-Pro mode?
EL: High..lol this mode will dominate any other in any genre of sports titles. from presentation to playability, it has been given the utmost depth.
GFH: Finally, what are you personally looking forward to in NHL 09?
EL: Aside from Be A Pro, the modes I am most excited for are yet to be announced and are still under the Embargo fate.


I'd like to thank Eric for taking the time out to answer some of my questions. Check out the EA Sports NHL 09 message boards for some of the latest information and speculation.

Now, this is the part when I break out my "jump to conclusions" mat and assume things.

One of the questions I asked was about whether or not a Winter Classic mode in the game. Eric answered "can't say". Now, he knows all about the game at this point and he holding back information for obvious reasons. I have to believe if there was zero chance of this addition being in the 09 game, he would have just outright say 'no' correct?

There is a "huge surprise" left to be announced by EA Sports regarding NHL 09. Until it's officially out of the bag, I'm saying the Winter Classic will be a playable mode.