This afternoon, EA Sports released the demo of NHL 09 on the European Playstation Network, only available for PS3 users. It will hit the North American PSN around 5pm ET. From what I hear, it's sick.
Thanks to poster C-B-4 (PS3) over at the
EA Sports NHL 09 message boards
for listing the overall numbers for the Penguins and Red Wings.
DETROIT RED WINGS:
Lidstrom:92
Datsyuk:91

Hossa:91
Zetterberg: 89
Holmstrom:83

Rafalski: 83

Chelios:83
Draper: 82
Hudler:81
Maltby:80

Stuart: 79
Cleary: 77
Samuelsson: 77
Flippula:77

Kronwall:77

Franzen:74
Kopecky:73
Osgood:82
Conklin:75
PITTSBURGH PENGUINS
Crosby:96

Malkin:90
Sykora:86

Gonchar:86
Staal:84

Whitney: 82
Orpik:80

Letang:80

Sydor:79
Satan: 79

Fedetenko: 79

Gill:78
Cooke:77
Kennedy:76
Talbot:76
Dupuis:75
Godard:72
Beech: 69


Fleury: 86
Sabourin:70
UPDATE:
Here's some video. Grainy video, but video nonetheless.
UPDATE #2:
Downloaded the demo and played it about six times. Some impressions:
-Game is slower than 08, but very smooth
-Poke checks are more direct
-Goalies make acrobatic saves
-Be a Pro mode is very, very addicting
-The dump and chase move will be very handy
-While checking out the crowd, I noticed two "fans" wearing the old black and white Penguin jerseys from the early 90's
-Here's another "fan" wearing the Pens Winter Classic baby blue jersey.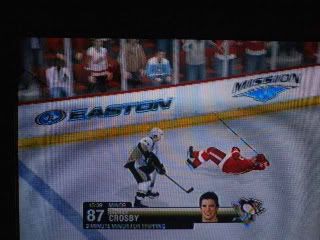 So the question remains: Will the upcoming third jerseys be in the initial shipment with or without a code? Or will they be part of a roster update?
UPDATE #3
:
EA Sports NHL 09 producer David Littman
has said that the ratings are not finalized yet.
"Player ratings were not final either...Johan Franzen is an 80 overall in the final version."