Tonight, one of the most historical stadiums in all of sports closed its doors and shut off its lights for the final time. Yankee Stadium holds so many memories to baseball fans and New Yorker's. This list is my own personal list of moments I've seen with my own two eyes. I'm only 27, so I unfortunately did not get to witness the greatness of Mantle, Ruth, Gehrig, Dimaggio, Ford, or Berra. My earliest recollection of the Yankees was my first game in 1989 against the Seattle Mariners. All I remember is Ken Phelps, yes that Ken Phelps, hit a homerun and I believe the Yankees lost. Here are ten of my favorite moments of my lifetime.
David Cone's perfect game.
-The same day that the Yankees honored the 1956 World Series perfect game pitched by Don Larsen, David Cone matches the feat as Larsen sit in a luxury box.
David Wells' perfect game.
-A New York favorite, Wells seemed to pitch his best when he was playing in pinstripes.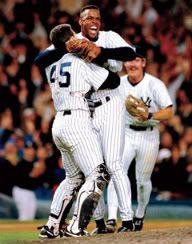 Dwight Gooden's no-hitter.
-A man who has seen plenty of ups and downs and struggles in his life has his moment of glory etched into baseball history forever.
Don Mattingly Day, 1997.
-My brother was awesome enough to get me tickets to see my hero's #23 retired into Monument Park forever. There's nothing that could match 57,000+ people chanting "DON-NIE BASE-BALL" in unison.
The 1996 World Series.
-The first World Series win in my lifetime for the Yankees and it just so happened that they won on my dad's birthday. I still remember where I was when Mark Lemke hit that foul pop up and Charlie Hayes settled under it for the final out. In a previous job, I spent some time with Hayes and asked what he thought about when he saw that fly ball about to drop in his mitt. "Man, I just thought 'I'm gonna go fishin' now!'"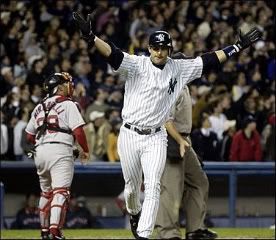 Game 7 of the 2003 ALCS.
-I began a pacing routine in the bottom of the 6th inning. It paid off when Jorge Posada's bloop dropped in and I went bezerk inside my apartment in Fort Lauderdale when Aaron Boone launched his famous homerun in the top of the 11th inning to send the Yankees to the World Series.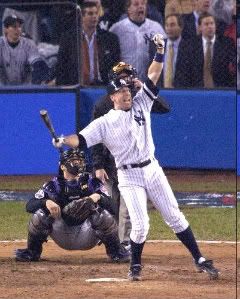 Games 3, 4, and 5 of the 2001 World Series.
-I have said to this day, I would trade the 1999 World Series win to have the Yankees win the 2001 World Series. With September 11th still fresh in the minds of Americans and New Yorker's, baseball became a welcome distraction and the Yankees found their way into the hearts of many. Those magical three nights capped off by the homeruns by Tino Martinez and Scott Brosius put much needed smiles on the faces of people who sorely needed them.
Old Timer's Day 2008.
-Through a former job contact, I managed to have a player's family suite in left field for Old Timer's Day this season. My dad and I spent the pre-game introductions and first three innings with the family's of Pat Kelly, Bob Turley, and Jeff Nelson. Once they left, I spent the final six innings, in a 24-person suite, with just my dad. What an afternoon.
A-Rod's 10 RBI game.
=A-Rod just owned Bartolo Colon that night. It was an absolutely dominating performance.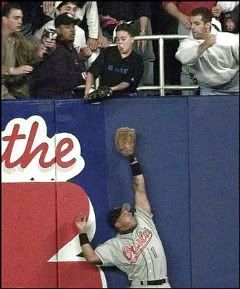 Game 1 of the 1996 ALCS.
-We all remember the tying homerun by Derek Jeter that was helped along by a 12-year old Jeffrey Maier, but this game will also be remembered for Bernie Williams' 12th inning walk off bomb to left field to win the opening game of the series. against Baltimore.
It's always sad to say goodbye to such storied homes of our beloved teams. Chicago Stadium, Maple Leaf Gardens, and Montreal Forum are revered arenas to us hockey fans and while Yankee Stadium may transcend sports into a more universally beloved stadium, any sports fan can appreciate the magnitude of what occurred tonight in the Bronx.
Mario Lemieux Foundation total donation: $155