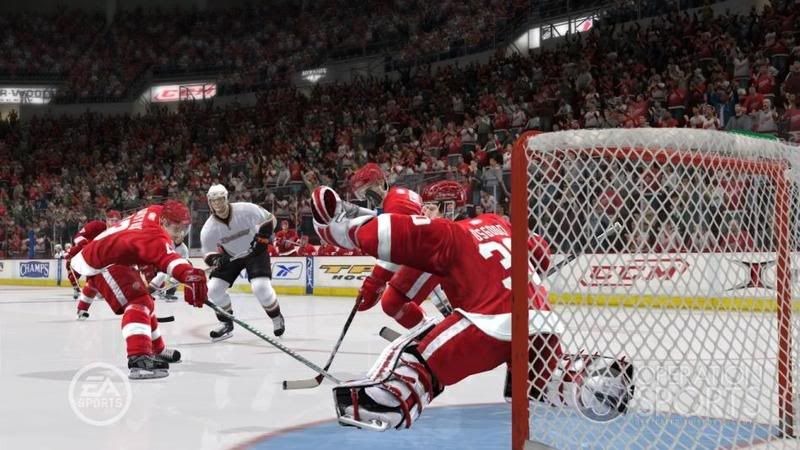 NHL 09 hits stores in about a week and has fans around the world clamoring for their annual hockey video game fix.
Operation Sports
has gotten their hands on a beta copy of the game and grab some screencaps of some of the overall player ratings for each team.
Safe to say, you'll be scratching your head at some of these.
Chris Pronger- 93
Scott Niedermayer- 91
Teemu Selanne- 89
Ryan Getzlaf- 88
Corey Perry- 84
Ilya Kovalchuk- 92
Zdeno Chara- 91
Thomas Vanek- 85
Jarome Iginla- 95
Robyn Regehr- 87
Dion Phaneuf- 86

(huh? the cover boy is rated lower than Robyn Regehr?)


Erik Staal- 89
Patrick Kane- 86
Jonathan Toews- 85
Brian Campbell- 82
Peter Forsberg- 95
(huh?)

Joe Sakic- 89
Rick Nash- 89
Mike Peca- 85
(what??)

Brad Richards- 90
Brendan Morrow- 86
Sean Avery- 79
Nicklas Lidstrom- 93
Marian Hossa- 91
Henrik Zetterberg- 89
Saku Koivu- 88
Alex Kovalev- 86
Scott Gomez- 88
Chris Drury- 85
Sidney Crosby- 96
Evgeni Malkin- 90
Paul Kariya- 89
Vincent Lecavalier- 92
Gary Roberts- 82
Ryan Malone- 80
Alex Ovechkin- 94
(lower than Forsberg?????)


I wonder if these will be adjusted once the game hits stores, otherwise there's going to be lots of player editing going on.
Mario Lemieux Foundation total: $20