The
Blackhawks unveiled their Harris Club
last week and as the team describes, "The new Club offers fans for the first time a luxurious executive suite experience at a fraction of the cost of suite ownership."
It's still $17,750 for season tickets or $175 a game for the following:
- 45 Bulls and 44 Blackhawks preseason and regular season home games
- Buffet-style dining with all beverages included at no additional charge
- One parking pass for every two seats purchased
- Three bars located within the Club Lounge atmosphere with couches, flat screen televisions, pool table, and Nintendo Wii
- Ample room to circulate within the Club
Anyway, they had a big party to announce this and Joakim Noah from the Bulls and Patrick Kane were on hand to represent the United Center's occupants. Here's some snapshots: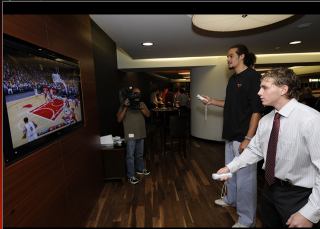 No, that's not a local kid from the YMCA playing Noah in Wii, that's Kane
Joakim Noah didn't get the memo about the suit.



I <3 style="text-align: left;">Wyshynski has more on the event, including interviews with Kane and Noah.