Atlantic

y-Pittsburgh
x-Philadelphia
x-New Jersey
NY Rangers
NY Islanders
-I think the Pens will rebound after an early season swoon. Their best mid-season acquisitons might just be Sergei Gonchar and Ryan Whitney.
-Philly will be a contender yet again. Martin Biron is the only question mark on the team, Can he do it again?
-On the back of Martin Brodeur, the Devils squeeze into the postseason, yet again.
-Henrik Lundqvist might be the best goaltender in the league, but I think the Rangers will take a year off from the playoffs before they get back in.
-Will Garth Snow choose John Tavares or Victor Hedman next June?

Northeast

z-Montreal
x-Buffalo
x-Boston
Ottawa
Toronto
-From top to bottom, the Habs are primed for a deep run.
-The Sabres will rebound without a true star player. Just a lineup of hard-working hockey players.
-The Bruins biggest question is who will be the more consistent goaltender?
-The wheels are coming off the bus in Ottawa.
-Will Brian Burke, I mean Cliff Fletcher, take the forward or defenseman in the Draft?

Southeast

y-Carolina
x-Washington
Florida
Tampa Bay
Atlanta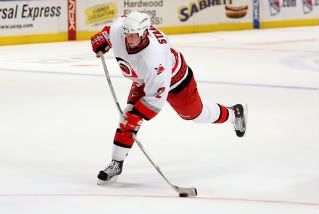 -I'm high on Cam Ward rebounding and Erik Staal is due for a 100-point season.
-The Caps could be a real dark horse if Jose Theodore can bring his 'A' game every night. We know OV is good for 60+ goals again.
-Florida is well-rounded and are loaded with quality young talent. They'll fight for that 8th spot.
-Improved yes. The Lightning playoff worthy? Not until they have a better goalie between the pipes.
-Mathieu Schneider will not help the Thrashers in their attempt to keep Ilya Kovalchuk.
1. Montreal
2. Pittsburgh
3. Carolina
4. Philadelphia
5. Washington
6. Buffalo
7. New Jersey
8. Boston
=====================
9. Ottawa
10. NY Rangers
11. Florida
12. Tampa Bay
13. Atlanta
14. Toronto
15. NY Islanders
CONFERENCE QUARTERFINALS
1-Montreal over 8-Boston
2-Pittsburgh over 7-New Jersey
6-Buffalo over 3-Carolina
4-Philadelphia over 5-Washington
CONFERENCE SEMIFINALS

Montreal over Buffalo
Pittsburgh over Philadelphia
CONFERENCE FINALS

Montreal over Pittsburgh
Previously:
Critical NHL Dates
9 Games to Stay Home and Watch
Rookies to Watch
Award Predictions
Penguins Preview

Subscribe to this feed