Central

z-Detroit
x-Chicago
x-Nashville
Columbus
St. Louis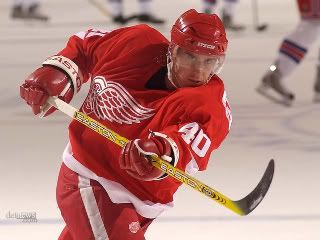 -Detroit will once again be the class of the conference. They didn't lose anyone and gained one of the best two-way players in the league in Marian hossa.
-The Blackhawks are ready to surprise people and it's going to be a fun year in the Windy City.
-Once again, Nashville will find it's way in the playoffs. Every year they are written off and somehow make it in, despite the craziness surrounding the franchises future.
-Rick Nash steps up his game and this Blue Jackets team makes a leap in the right directions.
-A very young, talented team plays in St. Louis, but they are a few years away. Need some seasoning.
Northwest
y-Edmonton
x-Calgary
Minnesota
Vancouver
Colorado
-As we witnessed last season, this division will be back and forth every night. The Oilers will survive and nab a top three spot.
-Jarome Iginla, Dion Phaneuf and Miikka Kiprusoff are good enough to put the Flames in the playoffs and allow North America to see the "C of Red" again.
-Minnesota is the biggest question mark with the entire Marian Gaborik situation hovering above general manager Doug Risebrough's head.
-Outside of the Sedin's, I'm not sure where the Canucks are going to get a lot of their goals from. The clock is ticking on Roberto Luongo's UFA status.
-Joe Sakic's final season will see the Avs go out with a whimper.
Pacific

y-San Jose
x-Dallas
x-Anaheim
Phoenix
Los Angeles
-The Sharks are loaded as usual, but this might be their last chance to make a very good run. Other teams in the West are catching up.
-Brendan Morrow is the heartbeat of the Stars. Marty Turco has gotten over his playoff curse. Sean Avery is added to the mix to stir things up. Dallas is ready to make some noise again.
-Chris Pronger, Scott Niedermayer, and Teemu Selanne are all aging stars. Corey Perry and Ryan Getzlaf will handle their load, but I don't think the defense is up to challenge that the West can provide.
-Phoenix, like Columbus, is headed in the right direction. The acquisition of Ollie Jokinen will help the development of Peter Mueller, but losing Keith Ballard and Nick Boynton will help their defensive depth.
-It's a good thing Los Angeles has a lot of cap room. They're going to need to throw a lot of money Anze Kopitar's way to keep him around. General manager Dean Lombardi should expect some offer-sheets next summer. Until Jonathan Bernier and Drew Doughty are ready and matured, the goaltending will be tested on a nightly basis.
1. Detroit
2. San Jose
3. Edmonton
4. Dallas
5. Calgary
6. Anaheim
7. Chicago
8. Nashville
=====================
9. Minnesota
10. Phoenix
11. Vancouver
12. Columbus
13. Colorado
14. St. Louis
15. Los Angeles
CONFERENCE QUARTERFINALS
1-Detroit over 8-Nashville
2-San Jose over 7-Chicago
3-Edmonton over 6-Anaheim
4-Dallas over 5-Calgary
CONFERENCE SEMIFINALS

Detroit over Dallas
San Jose over Edmonton
CONFERENCE FINALS

Detroit over San Jose
STANLEY CUP FINALS

Montreal over Detroit
Previously:
Critical NHL Dates
9 Games to Stay Home and Watch
Rookies to Watch
Award Predictions
Penguins Preview
Eastern Conference Predictions