MONOLOGUE
A look at the standings as we hit the new year.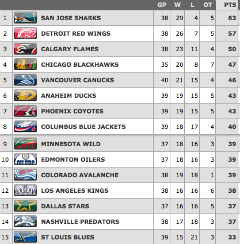 WEEK THAT WAS

Looks like those Marian Gaborik rumors can be put to rest until after the season. The Minnesota winger will
have hip surgery and miss
a minimum of 10 weeks.
The ratings of this year's Winter Classic at Wrigley Field
were up 12%
from a year ago.
The
starting lineups were released
for the All-Star Game in Montreal and the Eastern Conference will have some hometown flavor.
Another World Junior disappointment for
Team USA as they lost to Slovakia
in a quarterfinal on Friday afternoon. The best they can finish is fifth in the competition.
Don Sanderson, an amateur player in Canada who sustained a head injury after falling to the ice during a fight,
passed away after being in a coma
since December 12.
Gary Bettman is
taking the NHL to Las Vegas
...for the league's awards show.
EXCELLENT ELEVEN POWER RANKINGS

11. Vancover Canucks
10. New Jersey Devils
9. Montreal Canadiens
8. NY Rangers
7. Calgary Flames
6. Philadelphia Flyers
5. Chicago Blackhawks
4. Washington Capitals
3. Detroit Red Wings
2. Boston Bruins
1. San Jose Sharks

LET'S GO TO THE VIDEOTAPE
This week's Coach's Corner with Don Cherry.


Alex Ovechkin was not suspended for this hit on Jamie Heward. Should he have been?


The birth of the curved stick.


PLAYER OF THE WEEK (12/28-1/3)


Jose Theodore, Washington Capitals


3 GS, 3 W, .958 SV%, 1.33 GAA

While his save-percentage hasn't been pretty so far this season, Theodore was phenomenal this week in leading the Capitals to victories over the Maple Leafs, Rangers, and Sabres.


GAME OF THE WEEK

Philadelphia Flyers at Anaheim Ducks 1/2/09
This intra-conference showdown featured six second period goals, including three within the final two and a half minutes and finished off with a shootout. The Ducks bolted out to a 3-1 lead in the second period, but goals by Josh Gratton and Braydon Coburn evened things up. Philadelphia and Anaheim traded goals in the final minute and a half before a scoreless third period took the game to a shootout. In the skills competition, it came down to a Mike Richards goal and Martin Biron stopping Ryan Getzlaf to secure the 5-4 victory for the Flyers.

Highlights:


UPCOMING GAME OF INTEREST


Tuesday, January 6, 7p.m. ET


Philadelphia Flyers at Washington Capitals


Last time these two met in D.C. was Game 7 of their all out first-round battle in last season's playoffs. Last time they met this season, we saw a 7-1 Flyers rout thanks in part to a Scott Hartnell hat-trick.



GRATUITOUS PITTSBURGH PENGUINS RELATED AWESOMENESS
Mario Lemieux promotes "Life-size Poster Night" and creepily lifts up a young boy.





Subscribe in a reader